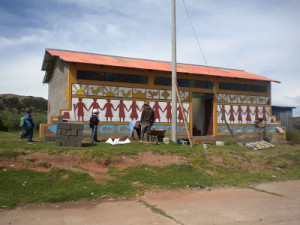 The Andean library/cultural center is a project created by artist Peruko Ccopacatty, who was born in a small village on the shores of Lake Titicaca, Peru, more than 60 years ago. From an early age he struggled against the social obstacles and poverty imbedded in the larger society of Puno, the nearest city and authority affecting his village. He lost his father at the age of 3 years and was raised by grandparents,  These circumstances necesitated that he be responsible for his own life and education. When he left his community at age 8 years, he  spoke only Aymara, the ancient pre-Incan language of his people. He struggled to overcome the hardships that he found in the pseudofeudal society he faced.   Through his determination and talent he was able to learn Spanish and complete his art education at the national School of Fine Arts in Lima, (Bellas Artes)  graduating first place with the Medalla de Oro in his specialized study of sculpture. Later he met his wife Rosalee, who came to Lima to study in Bellas Artes.  Their son Aymar was born and shortly after the family moved to the United States, where he was recognized immediately for his artistic merit, winning many national sculpture and mural competitions and participating in the national art world of galleries and public sculpture, including his own gallery on Block Island, Rhode Island, where he lived for many years.  His work was discovered there by a representative of the United Nations Society of Writers and Artists who submitted Ccopacatty's name to recieve the Award of Excellence for a life's work of social relevance as sculptor and muralist.  He received this honor in the year 2003 with a simultaneous reception ceremony and solo exhibit at the United Nations in New York. During this time and for many years he dreamt of providing a learning center for his village that would preserve and commemorate his Aymara culture.
"WIPXXXXXXXXXHALA"
With the creation of this library/cultural center, he intends to provide much needed opportunitys for the children of his community, who are facing the same limitations he found as a child with educational ambitions. He has completed and privately financed the library over a period of seven years, with building assistance from the community who eagerly await its formal opening this year.  A non-profit entity is being set up and Ccopacatty and his village are currently applying for grants and donations to provide for the library's function as a cultural identity in a region where language and customs are in a state of crisis. They will appreciate your donations to enable the ongoing expenses of hiring a librarian/archivist, as well as the purchase of materials for the library's  tables and chairs to be made by local carpenters, the provision of necessary books apart from those which are donated, and the installation cost of a solar system for electricity.
The Andean villages on the shores of Lake Titicaca holds many secrets, among these are the future unknown talents and abilities of the young children waiting to flourish, to be provided with access to books in order to partake in the larger world and to receive knowledge and appreciation of their own incredible culture, with the support of their adult community and that of yourselves, the global community.  Please participate in their dream….